Lots of companies are seeing dramatic changes in website traffic and feeling uncertain about what the future holds. It's a bit like the scene in Titanic when the iceberg is dead ahead, the ship has gone hard to starboard, and everyone is holding their breath to see what happens. 
For a few specific industries, the age of social distancing and stay-at-home orders has meant a boom in business. But for the majority of us, it's been a scary time of slowed operations and weakened revenues.  
Although we're naturally optimistic people, we're not going to speculate what the future holds for specific businesses, industries or the economy at large. This isn't a full-blown research project or comprehensive analysis. We're here to be the Watchers on the digital Wall. To share the trends that we're seeing from our clients, and to sound the horn when we see trouble ahead.
Here's the trouble (and some rare silver linings) we've been seeing with clients' organic traffic over the past several weeks: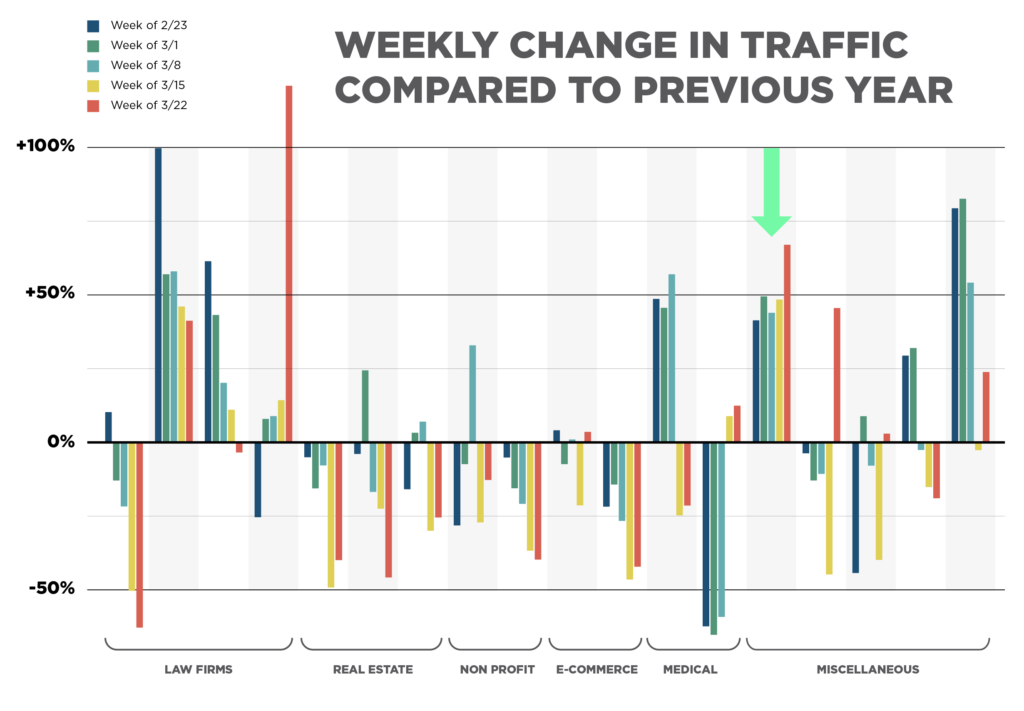 Downward Trends
LAW
As you can see towards the left, law firms in general are experiencing a steady downward trend in organic site traffic compared to last year at the same time. Our personal injury law firm clients have been hit the hardest, despite the ability to continue casework remotely, but our class action law client has actually seen an increase due to recent defective product news. Is personal injury traffic down because there are less people driving? Fewer car accidents? We can only speculate. 
OTHERS
Real Estate, Non-profits, and e-commerce organizations have also had similar downward trends, but these industries seem to have been impacted more dramatically in certain weeks rather than steadily decreasing. This could be in part due to unique business or industry factors.
MEDICAL
Our medical clients, towards the right, have seen some of the most dramatic drops, plummeting from 57% to -24% almost overnight. The decrease coincides with the timing of sudden drops in organic traffic across the other industries as well. What caused this massive shift, you ask? We answer. 
The Week That Everything Changed
The yellow bar in the graph above represents the week of 3/15. This was a turning point for many of clients, bringing a sharp drop in organic traffic even for clients who hadn't taken much of a hit before then. On March 11th, President Trump gave an Oval Office speech where he officially addressed the Coronavirus outbreak, announced travel restrictions, and encouraged social distancing. Following this speech, a large number of closures began to take place including schools, amusement parks, sporting events, and restaurants. Between the three days of March 11th – 13th, 60% of our clients were dramatically impacted. This is why the week of March 15th appears as such a stark drop in traffic.  
Clients Who Have Become Resources
See that green arrow on the top of the chart? This points to our one client who is seeing stability and even growth in a sea of dwindling traffic rates. We think this client has seen an uptick in website traffic because they have positioned themselves as a helpful resource for other businesses during this time. They have shared helpful news, tips, and resources, putting complex law updates into understandable terms and becoming valuable to their customers as a one-stop-shop for all the info they need. This is the new key to survival. People want to be led — we encourage you to lead. 
Onward
We're watching, learning, and reacting to all of this as it comes. We're riding this roller coaster with you. We may not have answers for what these traffic trends mean and where they're going, but we see the value in understanding the snapshot of things as they are now. We've sounded the horn, and we're ready for whatever comes next. Traffic changes, White Walkers, icebergs, and beyond.